New member and owner 65 C310J Hello to all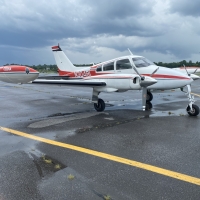 mlusterjr
Maurice
Just joined Cessna Owner Organization today, and I wanted to say hello to everyone. I'm very excited about being a member of this organization. I'm sure the help and things I'll learn from other Cessna owners will be invaluable.
This is my second go at aircraft ownership. For several years I thought long and hard about how to get back into GA flying. I defined my mission, and decided to purchase a 65 Mooney M20E a couple years ago. It's a great cross country airplane, the performance you get for the cost to operate no complaints. There were two things that made me want to look for another airplane. I'm a fairly big guy, I thought I would get accustomed to the interior size…I never did. Secondly, the last time I had flown a piston single was in 1988 when I left my CFI job. Everything since has been piston twins and turbines. I just never got the warm and fuzzies like I had before when I was a student and CFI.
One of the piston twins I had time in was a 310R I had flown for a couple of years, so considering insurance and experience in make and model a 310 was the most logical choice for me. Plus it solved my problems I had with the Mooney and exceeded my mission parameters. The Mooney was sold and I went on the hunt. After a number of months of searching…casually. I kept reminding myself of that for some reason. I found this 65 310J in Barnstormers. It had only been listed for 5 days, it already had all the avionics I wanted, and an asking price I could work with. I had the feeling it was the one. It was pretty late in the evening when I found the listing, I thought no way he would answer my call tonight. The owner picked up on the first ring. I thought this was a sign.
I flew up to Syracuse, New York two days later to check her out. The sale went very smooth. There were a couple items I wanted worked on before I flew it home, and that took awhile because every shop around is so backed logged. I recently got her home in the new hanger and I couldn't be any happier.